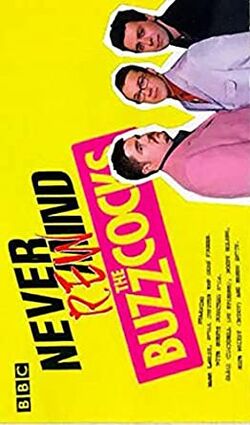 Never Rewind the Buzzcocks is a VHS tape of Never Mind the Buzzcocks footage which was released by the BBC around 24 Jan. 2000. The tape lasts for about 60 minutes.
This special, never-to-be-broadcast edition of the irreverent pop quiz is, as ever, helmed by the languid Mark Lamarr, while team captains Phil Jupitus and Sean Hughes enjoy the company of St Etienne's Sarah Cracknell, Dodgy's Math Priest, Noddy Holder of Slade and Jonathan Ross. All the usual rounds are included, along with three extra 'Rock Hotel' rounds.
The series favourites pus back the limits in a specially recorded hour of wit, crudity and (somewhere) good clean fun - loosely based around a music quiz.
Mark Lamarr, Phil Jupitus, Sean Hughes with guests Jonathan Ross, Sarah Cracknell from St Etiene, Math priest from Dodgy and Slade's Noddy Holder compete in a special edition of "Buzzcocks" that's more foul mouthed than Liam Gallagher and has more laughs than a Radiohead video.
In Never Rewind the Buzzcocks you get all the usal stuff - tuneless intros. indecipherable lyrics, ID parade, Verbal abuse. All this plus stars as you've never seen them before - Sarah Cracknell puts some shorts on a semi naked fat bloke. Noddy Holder disposes of a blow up doll. Phil Jupitus get piles and, about fourty minutes in, Jonathan Ross stops talking.
External Links
Edit
Community content is available under
CC-BY-SA
unless otherwise noted.